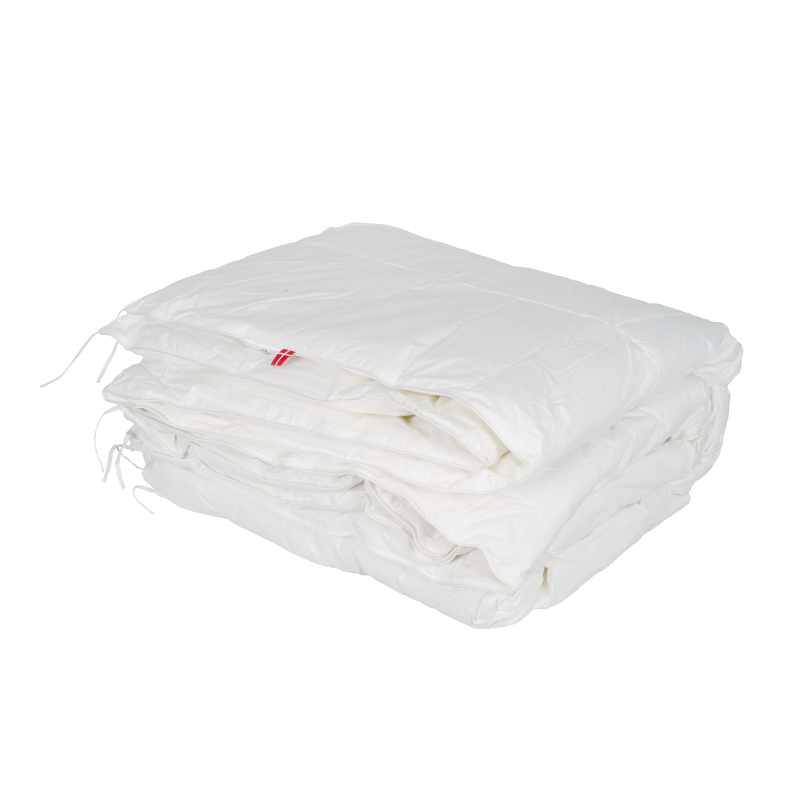  
Duvet 90% duck down - Autumn 260/240 890g
Natural duvet 90% new duck down, 10% new feathers (142g/m²), 100% cotton percale casing
Expected delivery date :
07/12/2023
Description:
Our natural duvets are filled with new down and new feathers; this fill power gives them their fluffiness. The difference between a down duvet and a synthetic duvet lies in its natural thermoregulation capabilities, i.e. the power to extract the moisture produced by the body and maintain heat. The body is therefore maintained at an ideal temperature.
It is important to know that the quality of a down duvet is directly related to the percentage of down contained in the filling. The higher it is, the better the quality and therefore the durability of your duvet.
Duck down duvets have a lower thermoregulating power than goose down duvets. The fill power, i.e. the thermal insulation capacity, is also lower (675 CUIN for the duck down duvet compared to 700 CUIN for the goose down duvet).
They come in three different togs:
Summer (cool): 60g/m2 fill weight
Autumn (medium): 142g/m2 fill weight
Winter (warm): 250g/m2 fill weight
Composition:
Filling: 90% new duck down - 10% new feathers
Density: 142gr/m²
Casing: 100% cotton percale TC280
Pocket stitched for a more even distribution of the filling
Finish: taped double stitching
Fill power: 675 (CUIN) This is the thermal insulation capacity and the value is between 300 and 800 CUIN.
Oeko-Tex certified: This certification guarantees that the products do not contain products that are harmful to health.
Natural anti-dust mite properties (No Mite): Dust mites are attracted to confined, warm and humid environments. Thanks to their fill power that promotes air circulation, feathers and down have natural anti-dust mite properties. Moreover, the tightly woven casing creates a second protective barrier.
Downafresh certified: This label also guarantees a clean product of very high quality. The handling of the fillings and the manufacturing processes comply with the stringent EU directives.
IDLF certified: Traceability system that monitors the welfare of the ducks and geese.
Origin:
Made in Denmark.
Care instructions:
Air your duvet daily.
Washable at 60°C
Tumble dry at low temperature with drying balls or tennis balls (5h to 9h).
Delivered in a protective cover.
Wash at 60°C, dryer allowed, ironing not allowed